Human Bowling
The human bowling activity is currently postponed due to the high heat temperatures. This activity is better suited to moderate temperatures that are anticipated in upcoming weeks.
You can roll, bounce and jump in the human bowling ball!  Get strapped in for gravity-defying fun! You and your friends can take turns rolling in the ball and pushing it up and down the course!
 

No fee for patrons with reservations for bumper cars or bubble soccer.

 Human bowling balls can be used before or after reserved session on the bumper

 cars or in the bubble soccer balls.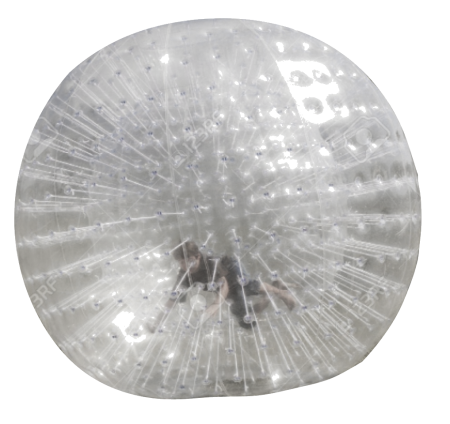 REQUIREMENTS
Operators must be 12 years of age or older.  

Shoes must be removed before entering human bowling ball.   

Operators must wear socks or purchase socks at ticket window.

Always remove eyeglasses and any sharp or heavy objects from clothing before use.

Lockers

are available and may be rented to secure personal belongings.

Maximum weight is 300 lbs.
RULES
All human bowling ball operators must sign a waiver and read requirements and rules prior to

play.

Always be sure the human bowling ball is properly inflated before use.

Always properly adjust and wear the shoulder straps within the human bowling ball if using the

ball on the ramp.

One person only per turn inside a human bowling ball.

Do not attempt any stunts inside a bubble soccer ball, including but not limited to

jumps from an

elevated area or rolling down a graded slope. Dangerous stunts may result in unnecessary injury.

Do not use while under the influence of alcohol or drugs.

Only use the human bowling balls on astroturf – do not use on concrete.

Trash must be placed in trash receptacle prior to leaving human bowling play area.
The Providence Rink facility is located at the ALEX AND ANI City Center. The summer event season extends from April through October with rental space available for public and private events. Summer outdoor activity programming runs June through October. The winter ice skating season begins in November and continue through March.