BUBBLE SOCCER
Bounce, bump, and roll in the new bubble soccer balls! Bubble soccer balls are an all-encompassing, protective, safe, single chambered ball of air with inner handles and shoulder straps that enables you to almost literally defy gravity.  Think soccer meets bumper cars!  The bubble soccer games will be held inside an inflatable field on an astroturf field that covers the rink's concrete slab.
PRICE
$12 for 20 minutes
14 bubbles per game – 7 bubbles per side max
Ages 12+ to play
HOURS
Thursday-Sunday
4:00PM – 10:00PM
WEATHER AND EVENT DEPENDENT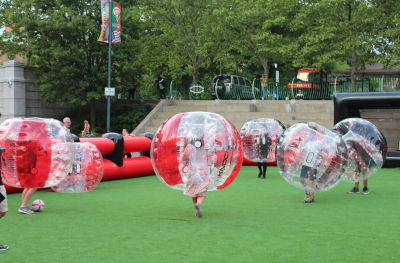 REQUIREMENTS TO PLAY BUBBLE SOCCER
All bubble soccer players must sign a waiver and listen to orientation details prior to play.

These bubble soccer balls are size Large and meant for players 12 years of age and over with a minimum height of

60".

Not for use by persons who have a waistline of 40 inches or greater.

Players must wear sneakers or appropriate footwear.  Flip flops are not acceptable

footwear.

For use only by persons healthy enough for vigorous physical activity.

Not for use by pregnant women or persons with any medical condition such as asthma, claustrophobia, heart conditions, seizures or neck or back problems.
BUBBLE SOCCER RULES
Always remove eyeglasses and any sharp or heavy objects from clothing before use.

PLAYERS HAVE THE BUBBLE FULLY COVERING AT LEAST 8 INCHES ABOVE THEIR HEAD to allow for rollovers

and head protection.

Players must not have their heads flat with the top of the bubble, near the top, or above the top –

the bubble must be refitted properly or replaced.

Check that the bubble has been inflated appropriately.

Straps must be tightened to allow for more protection above the head to meet the 8 inches

requirement or bubble must be replaced or refitted properly.

PLAYERS MAY ONLY BUMP INTO PLAYERS WITH WITH LIGHT TO MODERATE SPEED – no full speed collisions

are permitted. 

No more than 10 feet (3 strides) between players in a direct rush.

NO SPEARING PERMITTED – players cannot bend down and use their head to bump another player.  SPEARING = IMMEDIATE REMOVAL FROM THE GAME.

PLAYERS MUST USE THE SIDES OF THE BUBBLE FOR IMPACT WITH OTHER PLAYERS, not the top. Colliding top

to top of bubbles can result in serious head and face injury.

Aggressive players will be penalized and removed from the field if necessary.

Do not have more than one person inside a bubble soccer ball.

Do not use while under the influence of alcohol or drugs.

Only use bubble soccer balls on astroturf within field area – do not use on concrete.

Do not attempt any stunts inside a bubble soccer ball, including but not limited to jumps from an elevated area or rolling down a graded slope. Dangerous stunts may result in unnecessary injury.
The Providence Rink facility is located at the ALEX AND ANI City Center. The summer event season extends from April through October with rental space available for public and private events. Summer outdoor activity programming runs June through October. The winter ice skating season begins in November and continue through March.