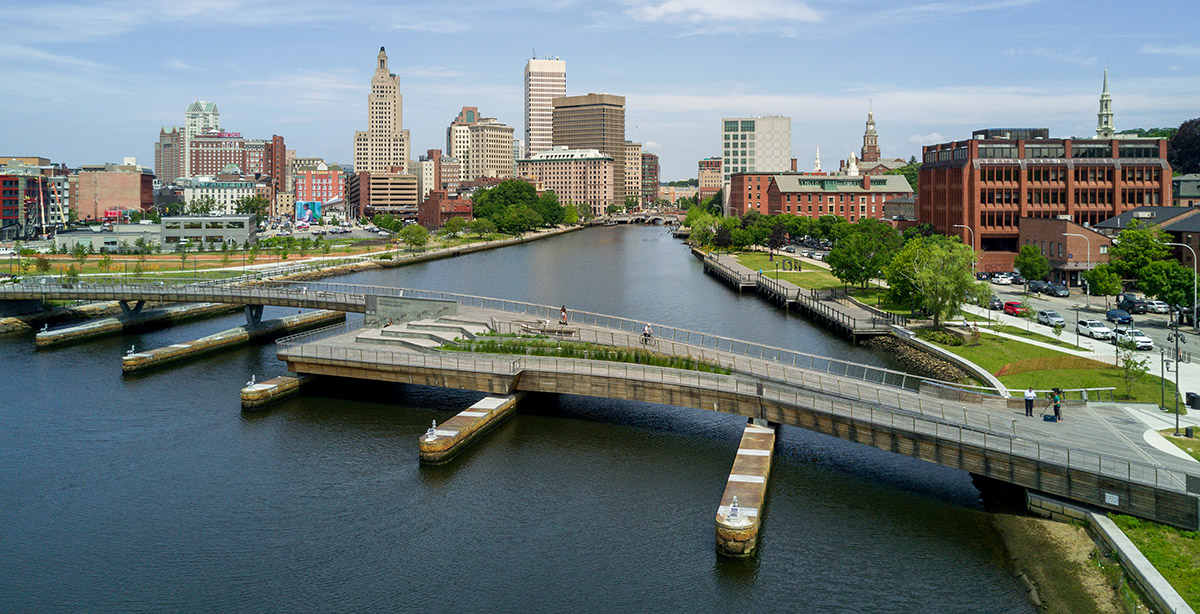 Michael S. Van Leesten Memorial Bridge
About The Bridge:
The Michael S. Van Leesten Memorial Bridge stands as the culmination of nearly 30 years of planning between the City of Providence and several local anchor institutions. Spanning the Providence River and connecting the neighborhood of Fox Point in the east with the Innovation and Design District in the west, the bridge serves as a community gathering place, offering performances, moments of quiet introspection, and an unparalleled view of the city's skyline.
The bridge design was selected through a 2010 competition led by the City of Providence. The winning design by INFORM Studio reuses the existing piers of the old I-195 highway bridge. Stretching 450 feet, the deck of the bridge is constructed from Brazilian Ipe wood, and features matching wooden benches, built-in chess boards, and illuminated tables.
Opened to the public in August 2019 as The Providence River Pedestrian Bridge, the Providence City Council's Committee on Urban Redevelopment, Renewal, and Planning voted to rename the bridge in June 2020 in honor of Michael S. Van Leesten, a civil rights activist, business and community leader, athlete, and a life-long resident of the city. The full city council approved the resolution and it was signed by Mayor Jorge Elorza in July 2020. A formal dedication ceremony is being planned for sometime in the near future.
FOLLOW US ON INSTAGRAM: @MVL.MEMORIALBRIDGE 
Michael S. Van Leesten Memorial Bridge Dedication
Michael S. Van Leesten
Civil rights advocate, community leader, veteran, entrepreneur, father, friend, athlete, and mentor.
Michael "Mike" S. Van Leesten was a civil rights activist, US Air Force veteran, business leader, and economic change agent, who spent his life in service to the public, and in pursuit of justice for all. A lifelong resident of Providence, and devoted father of six children, Mike was a founding member and CEO of the Opportunities Industrialization Center (OIC) of Rhode Island, paving the way for the education and job training of countless African-American and other economic and racial minorities. Through his leadership, OIC constructed and Education and Job Training facility in South Providence which transformed into CCRI's Liston Campus. At OIC, Mike created other organizations including Omni Development, providing affordable housing, and Opportunities Development Corporation, a business development Organization.
A basketball phenom at Rhode Island College, Mike holds the record for all-time rebounder with 1,494 rebounds, and was inducted into the RIC Athletes Hall of Fame in 1989, and The New England Basketball Hall of Fame in 2009. In 1963 and 1965, Mike joined Dr. Martin Luther King Jr.'s Southern Christian Leadership Conference efforts to promote voter registration in the South, and the passage of the Voting Rights Act of 1965.
A Formational Commissioner on the I-195 Redevelopment District Commission, Mike served as Director of Planning and Development for The City of Providence, and the first Black Director at Industrial National Bank, which later became Fleet Bank of RI. Additionally, Mike worked closely with the Mashantucket Pequot Tribal Nation for years and was instrumental in the development of Foxwoods Resort Casino. Recognized for his life's exemplary work, Mike received honorary doctoral degrees from URI, RIC, and Roger Williams University.
The bridge serves as a symbol of Mike's life work of bringing people together to build community, institutions, opportunity, and shared cultural experiences, and his ability to always see the vast imaginative potential where there is a blank canvas.