Disco Stars Rewards Program
Complete Monthly and Bonus Star Challenges to earn Disco Stars and redeem them for rewards and prizes throughout the Roller Skating Season! 
Follow us on Instagram @BankNewportCC and on Facebook at Facebook.com/TheProvidenceRink to make sure you dont miss any  Disco Star opportunities! 
INTRODUCING
Disco Stars Rewards Program
FAQs:
How can I get a Monthly Rewards Card? 

Your monthly rewards card can be picked up at the Ticket Window at the Providence Rink during our normal business hours:
Monday-Wednesday from 4:00PM – 8:00PM
Thursday-Friday from 5:00PM – 10:00PM

How many Disco Stars can I earn in total?

Earn up to 32 Stars

per month (includes Bonus & Secret Star Challenges) 

Earn up to

160 Stars

from June-October

What is the difference between Monthly and Bonus Star Challenges?

Monthly Challenges:

Earn 4 Stars per Monthly Challenge

Bonus Challenges:

Earn 1 Star per Bonus Challenge

16 Total Stars per month

8 Standard Bonus Stars

8 Bring a NEW Friend Stars

What are the prizes for completing challenges? 

Monthly Prizes:

16 Stars

= 1 Admission + Rental Comp Pass

20 Stars

= 1 Movie Night Comp Pass

24 Stars

= FREE Locker Rental for following month

28 Stars

= Exclusive Roller Disco Merchandise Items

End of Season Prizes: 

 80 Stars

=  Roller Disco Merchandise Bundle

120 Stars

= 4 Ice Skating Admission + Rental & 2 Ice Bumper Car Comp Passes

160 Stars

= Free 2023-2023 Season Pass (Winter or Summer – Patron's Choice)

How are the Disco Stars tracked?

Patrons will be responsible for maintaining their Monthly Rewards Card. To receive Disco Stars visit the Season Pass Check-in table to confirm the completed challenge(s) and get your Star Sticker(s).
Challenges that require a patron to go to a location outside of BNCC or to take a photo

MUST

use

#DISCOSTARSPVD

&

@BankNewportCC

on social media to receive credit.

In the event a patron does not use social media, a time stamped photo will be accepted.

How do I turn in my Monthly Rewards Card for prizes?

Monthly Rewards Cards will be collected the first week of the following month for evaluation. BNCC staff will distribute Monthly Prizes to qualified participants at the Manager Window at the Ticket Office.

Prizes can be claimed during

ANY

Roller Disco event through October.

What happens once my Monthly Rewards Card is turned in?

In order for us to keep track of the Stars each patron earns month-to-month BNCC staff will input the information from each card collected at the end of the month into a spreadsheet. This allows us to keep a track of the total Stars earned per patron and who qualifies end of season prizes.
Patrons will receive an email from

Rink@ProvidenceRI.gov

with their running total of stars earned by the first week of the following month (as long as you have submitted your rewards card).

What happens at the end of the season?

Follow our Social Media pages and Stay tuned for end-of-season announcements!

What do you mean by "bring a new friend?"

We're encouraging you to bring a NEW friend to BankNewport City Center for Roller Disco. To be considered a "NEW" friend they must not be in our system or have previously attended Roller Disco.

Roller Disco is on Thursday-Friday from 5PM-10PM and select Saturdays from 3PM-8PM June-Oct.

I lost my Monthly Rewards Card, do I lose the Disco Stars I already earned?

Unfortunately, yes, since BNCC will not be keeping track of individual challenge rewards each patron is responsible for their own card and will be liable for keeping it safe month-to-month. However, once your monthly card is submitted we will maintain that record for the remainder of the season.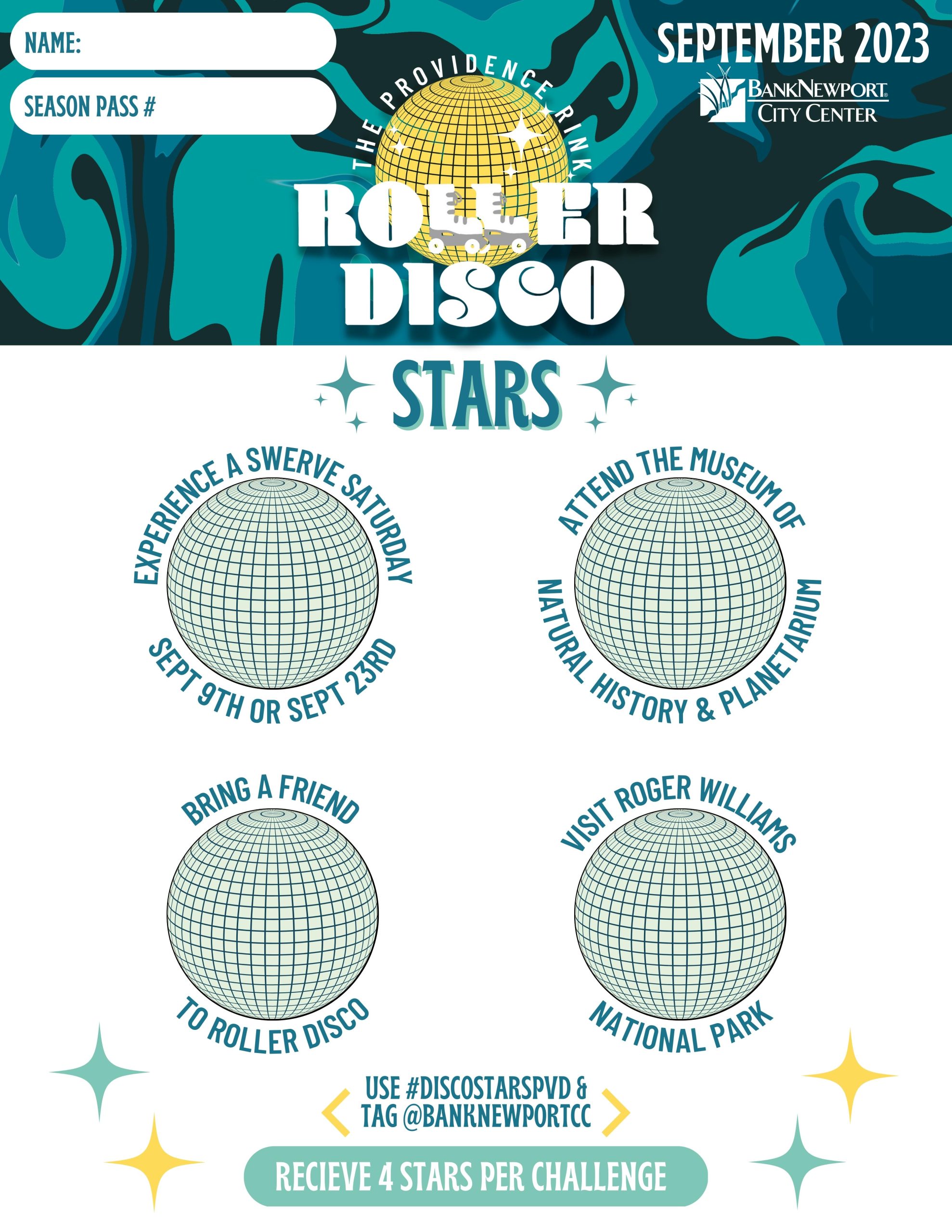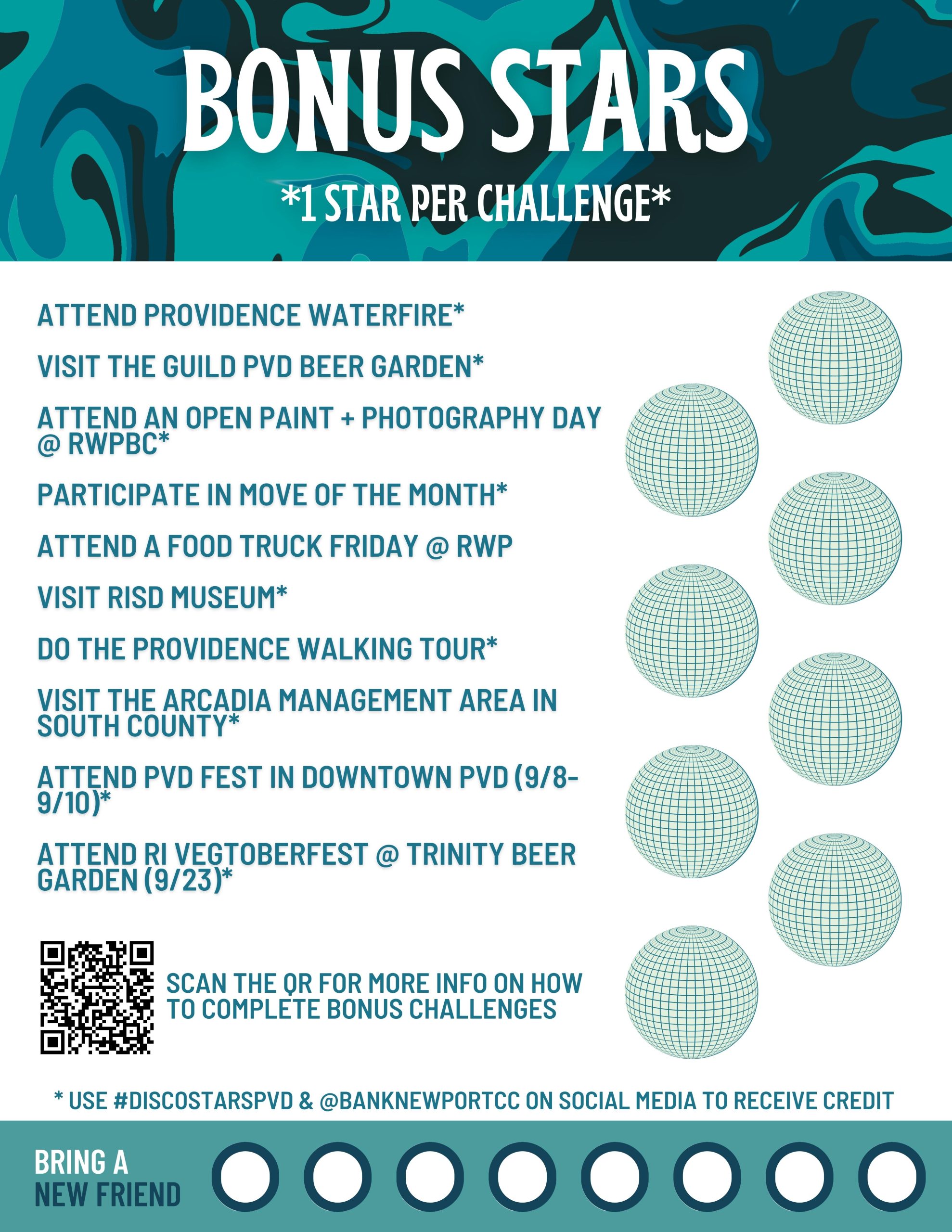 Bonus Stars Locations
Learn about the Guild Beer Garden HERE
Learn about the Open Paint & Photography @ RWPBC HERE
Learn about the Food Truck Friday HERE
Learn about the Providence Walking Tours HERE
Learn about the Arcadia Management Area HERE
Learn about the PVDFest HERE
Get Tickets for RISD Museum HERE
Get Tickets for VegtoberFest @ Trinity Beer Garden HERE