Bumper cars are by phone reservation only! Please call 401.331.5544.
NEW! It is now required to have a photo ID when renting ice skates.
Today is Tuesday, January 23. Due to the rain, we will be closed this morning. Please check back for updates.
WEATHER NOTICE: Frigid temperatures will not restrict the operation of the bumper cars! Please be sure to dress warmly! Full winter gear, layers, hats, face coverage and most importantly, gloves! If you forget your gear, we have hats, gloves, and hand warmers for sale at the ticket office!
NEW PROGRAMMING!
BUMPER CARS ON ICE!
Providence is the third city in the country, first in New England and first outdoor rink to offer this all ages entertainment. New hours of operation will accommodate shared and exclusive ice time for bumper cars and ice skating. Click here for more information! Phone reservations only- call 401.331.5544.

Groupons for ice skating at the ALEX AND ANI City Center are available. Please read "the Fine Print" for blackout dates.
Gift Certificates Available!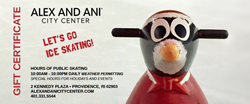 A gift certificate from the ALEX AND ANI City Center is the perfect present for the holiday season! Any denomination and service- from admission and skate rental for two, to pavilion rental for a group outing, to a private full ice rental for a special evening event!
*Please note: there is a $2 surcharge for any mailed gift certificates.
Give the gift of skating!
Ride to the rink with Lyft, our official rideshare partner! New Lyft riders get $5 off their first two rides with code ICERINK10. Show your Lyft ride receipt to the Alex and Ani City Center for $2 off rink admission
The ALEX AND ANI City Center is located at the Providence Rink facility. The summer event season extends from April through October with rental space available for public and private events. The winter ice skating season begins in November and continues through March.